Whether it's Microchange, Diaclone or Transformers; Japan has never failed to bring us some amazing model kits and miscellaneous confectionary-accompanied merchandise. A mind-blowingly large selection of items ranging from complex snap-together model kits with full Transformation, to jigsaw puzzles and everything in between. Here is a far-from-comprehensive look at these treasures.
Several dedicated kits, not sold with food products were marketed as part of the Diaclone line.
Many of these were later licensed by French company Revell, and some were even considered for the 1985 assortment of Transformers. Sunstreaker, Red Alert, one kit for each of the two modes of Jetfire, and a Roadbuster kit were eventually cancelled.
Takara's Microchange line did however offer kits with confectionary. There are four known sets to exist. Each kit is cast in one or two colours and some variations of the reversed colours were also available. These kits were not blind-packed, but the colour configurations were. Set one consists of 5 kits. The second, third and fourthsets are comprised of 6 kits.
N.B. The chronological order of each set is un-known.
Here are the available kits, for each of the four confirmed sets:
Of particular interest are the two different camera robo kits. The first being able to transform into a camera and a robot by itself, the second shows two robots forming another, different camera. More on this later.
It's interesting to note that the 4x4 has the transformation akin to that of the VW/Mazda Familia 1500XG and the Porsche 924 Turbo. Again, more on this later.
The minis are also slightly larger than their counterparts of regular production lacking, of course, luxuries such as separately moulded windows and rubber tyres.
What would this hobby be without variations? Model kits are most-certainly not exempt. The first confirmed set of Microchange kits were available in three different types of packaging. A standard Japanese package, a Japanese package with an English-centric import sticker and a third. Japanese with printed English text!
Sticker versions were clearly imported for sale in speciality stores, but why the need for the English version? Was it just to broaden the target audience for marketing purposes? Or were they officially sold in western countries? I actually don't know with any large degree of certainty but speculation would suggest the answer being "yes" to the latter.
More recently the idea has been pitched that these could indeed be Finnish, as they bare similar traits to the R-Kioski Diaclone toys. This theory can be revisited If and when more solid evidence comes to light
That's not all though, as the import sticker clearly says that the food content of the package is gum, whereas the English-text box clearly says 'Chocolate'....A mistake? Or a legitimate change? Surely the involved companies would notice a glaring misrepresentation of ingredients.
Onto Transformers -
Takara NTV, a subsidiary of Takara created the kits which were then licensed by companies such as Kabaya, Ramune, and other confectionary companies.
The majority of kit types vary between the type of confectionary contained within each box. Gum tended to be sold with larger kits, and pretzels, choco, caramel etc. with smaller kits, decoys, keychains and trading cards. Let's take a look at an example of a smaller Kabaya model kit sold with chocolate covered caramel. The figure inside this box is Dinoking. He is small and although has articulated limbs, he does not transform. The kit is in the upper box, the candy in the lower.
Pictured below are some of the aforementioned jigsaw puzzles. In this particular series, there were a total of five available. Each is double-sides and comes with some sort-of decoder sheet.
This article would be incomplete without the little candy giants available in various iterations, lines, years, colours and moulds. I am of course talking about decoys.
A vast amount of the smaller kits however, did Transform. Albeit with sometimes slightly less detail, or omitted features. These miniature works of art were available in a variety of colours, and different boxes according to series.
Let's now take a look at some of the larger, more intricate model kits marketed by Kabaya and sold with gum. As an example of release grandeur, here's a selection of kits, spanning 7 series':
Most of the smaller figures were blind-packed (an example to the contrary is the Dinoking figure that we just looked at) but one could more easily complete the larger figures as a hole on one side of the box allowed for visual designation by way of assigned kit number which corresponds to an image of the respective model kits on the side of the box:
Variations were also present in the transformers kits. Predominantly their boxes.
Series three saw the release of Broadcast (Blaster), Silverbolt, Ultra Magnus, Blitzwing and Ravage/Rumble. Prior to the mass-release however, was an earlier, slightly different third series.
As you can see in the above pictures, the boxes of the very first release of series three utilised stock photography of the Transformers toys on which the kits are based as opposed to their box art. The box design is not the only difference on these ultra-scarce variations. There was also an extra kit....
Yep. Optimus Prime was originally re-released as part of the third series of large Kabaya gum kits. He was initially released in the first series along with Lambor (sideswipe), Soundwave and Starscream. The actual kits are the same, but the designated number reads 6 instead of 1, compared to the first release.
The variations don't end there for series three however. In the 80s, there was a subsidiary of Takara called Seven. Takara Seven released 5 model kits, and three model kit giftsets.
Can you guess the 5 released kits? That's right, series three saw yet another release in the form of Takara Seven boxes. The kits themselves remained the same, though they were not sold with any-sort of confectionary. Each box had a window showing respective character artwork for the kit within.
Here's where the article links back to the Microchange kits. As I said, there were also 3 kit gift sets released by Takara Seven, and three gift sets. The gift sets were as follows:
Set A: Soundwave VS Gears
Set B: Gong/Charger
Set C: Reflector.
The kits inside these boxes are the exact same ones that were released by Takara as part of the microchange line. The long boxes are doubled in width because there are two 'Microchange' kits inside each box. While the moulds remain the same, the instructions have been altered to reflect the transformers brand.
Like the Microchange incarnations; there are two colour schemes available for each set.
Remember earlier when I mentioned that there was something special about the Camera Robo kits? Well, there is. As with the sets A and B, there are two re-packaged Microchange kits inside the box. One kit is a camera that transforms into one robot, the other kit is a different camera that transforms into two robots. We already know this right? Here's the kicker. These three robots/two cameras can then merge to form another different, single camera.- Reflector! (Whose artwork was only shown on this gift set, a set of microchange premium stickers and a booklet that came with the release of Transformers on Laserdisc).
Not only that, but gift set a saw the first and only iteration of a G1 Gears in the Japanese market.
At the far reaches of the Generation one line we saw a Japanese line called "Block Town" cancelled. The four Micromasters from this cancelled line went on to be produced. however instead of Lego-type blocks; a jugsaw puzzle play mat was included with each of the four Rescue Patrol members. Oh and candy too. Having been produced in 1996, these are the very last items to come off of the G1 production line.
Takara NTV also ran a few promotions which allowed for the opportunity to win special chrome versions of a selection of their popular model kits.
It is unknown exactly how many were given away, but due to the incrdibly low numbers of these chrome kits to have surfaced, you can be sure than it wasn't very many at all.
For contest eligibility, one had to purchase specially marked promotional packs of Transformers pretzel snacks and pull a winning card from within.
Here's where it gets especially interesting. There was also a giftset available of all four of the chrome kits from series 1! Even less of these exist than the single pieces.
It is unknown if a gift set was made for series 2.
As you have probably already noticed, the most glaring thing initially when looking at these beauties, is that the boxes are exclusive to the campaign. Plain white boxes with beautiful line-art in various single colours. Elegance in simplicity.
The kit moulding is once again the same as that of their production counterparts. Lucky winners were also congratulated by Takara for having won the prize with a printed letter from the company saying as much.
Here's what the box contents look like:
One important thing that I have neglected to mention reverts back to the first picture in this section of the article. "What's so special about a cardboard box?" you may ask. Well, these kits being prizes, they would have. naturally, been shipped to each respective winner. The one pictured is in fact the original shipping carton sent from Takara.
There were also smaller kits available as prizes in gumball machines and are actually chromed versions of the choco kits, not the gumball kits themselves which are actually of a unique design.
Chrome Jaguar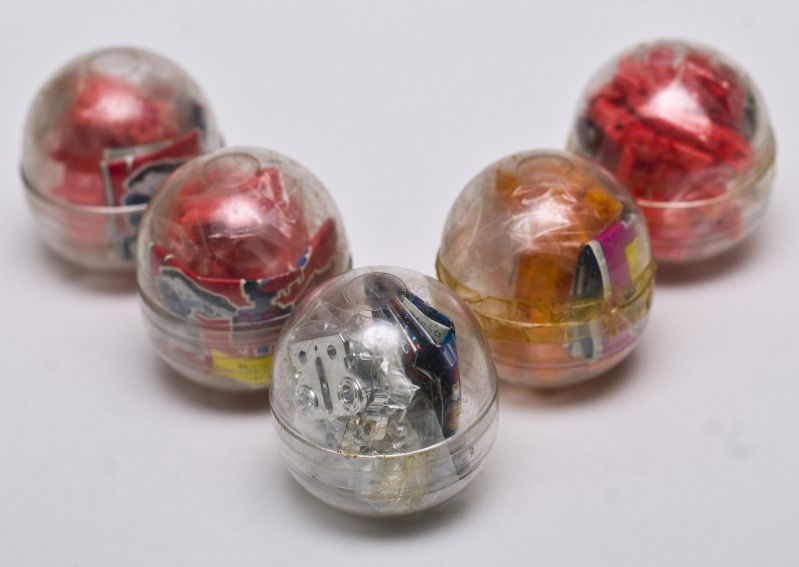 Chrome Frenzy
Chrome Charger
The next assortment of small kits to be chromed and offered as prizes were those from Masterforce. All but one of the ones below are actually samples that were sent from Takara to Hasbro.
In addidion to the chromed gumball machine prizes, Takara did something a little bit different. Small cassettes, dressed in cardboard sleeves were also available as prizes in certain gumball machines. Having the same make-up as a kit, these tiny things were already assembled. With screws no-less! Very cool. It is unknown if they were offered through other outlets.
Well there you have it. There really were a lot of this type of thing released. Many of which can't be document because there simply isn't enough information. Yet. This will of course be added to as more information comes to light. I hope that you've enjoyed this not-so-comprehensive look into the world of Transformers-related model kits.
Oh, how could I end this article without a picture of an actual food product that came with some of these amazing pieces of design?
Well....the wrapper anyway. What? I was hungry!
Until next time.
________________________________________________________________________
*Pictures of promotional Transformers pretzel snack box and chromed Megatron kit are not the property of RobotPoints and are displayed here for information purposes only. if these are your pictures and you would like them removed, please contact me and I will do so immediately. Apologies in advance for any inconvenience caused*